COVID Protocols
The all-volunteer staff behind ConFusion maintain their commitment to a safe convention environment, which this year will include a continuation of our transmission mitigation protocols from 2022 and we'll be adding information for ages 5-17. Please check our policies page for more information.
Discord
Looking for a place to interact directly with ConCom, get some questions answered, and mingle with fellow con-goers? Well, now we've got a new home on Discord! Drop in, hang out, post some memes, make some suggestions, and get fired up to meet up in person in January 2023!
Volunteer!
The volunteer application form is now open! Confusion is run solely on volunteers. Without their help, the convention would not be able to continue. Thank you to everyone who has applied so far!
Kidfusion
We are happy to announce that Kidfusion is a go for 2023! Many thanks to Brian Bay for heading up the effort! If you have any ideas for Kidfusion panels or are interested in volunteering, email us at kidfusion@confusionsf.org!
Media GoH Jacob Pauwels
Our third guest of honor is well known on TikTok for his wacky sandwich creations and love of D&D. We are excited to welcome Jacob Pauwels as our Media GoH!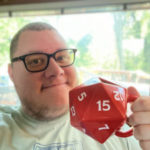 Creative GoH Kathe Koja
We're delighted to announce the second of our Guests of Honor, Creative GoH Kathe Koja!
Fan GoH Chris Barkley
We're delighted to announce the first of our Guests of Honor, Fan GoH Chris Barkley!
Linktree
One convenient location for all of your ConFusion social links. Whatever you're looking for, we've got it: Facebook, Twitter, Instagram, even TikTok! Jump in and keep up to date with us on your favorite social platform.
Email
conchair@confusionsf.org